The following guides are ones that EYS have used personally in our travels and have found them excellent to deal with and informative in their tours.
If you have any questions, please do not hesitate to ask us.
 Havana, Cuba
Private Tour Guides
Ariel Rodriguez  
Phone: +53 5 3998392
Ariel drove us around on this tour for 2.5hours giving a commentary on each area we visited. He was very obliging, and nothing was too much trouble.  The car was a pink Pontiac Bonneville.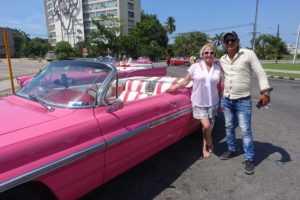 Cubaoutings Tours Company
Owner: Gloria Machado and Felix Navarro
Phone:  +53 5 2812117
Email: info@cubaoutings.com or cubaoutings@gmail.com
Gloria sent Israel to be my guide and he was fabulous, he asked what I'd like to see, and he took me everywhere I asked and was so knowledgeable. It was a great day out.  3 hours walking tour and our driver met us in the afternoon for a 2-hour car tour to outer suburbs.
Montego Bay, Jamaica
Private Tour Guides
Owner:  Chester Fowles
Phone: 1876-587-3584
Email: chestertours@yahoo.com
Chestertours had great reviews so we booked Chestertours.  He was prompt to return emails and our guide on the day was Sheryl.  Showed us the sights for 4 hours with plenty of stops for photo opportunities.  Sheryl looked after us very well.  Our tour was called Montego Bay city highlight tour.